Cognitive and Behavioral Functions of the Parahippocampal Region
We are interested in understanding the cognitive and behavioral functions of the cortical regions that surround the hippocampus. These regions include the perirhinal, postrhinal, and entorhinal cortices.

Recollection of the context in which real-life events occur is a critical component of episodic memory. Yet, we know very little of the process by which contextual changes are identified, how such identified changes result in the encoding of a spatial context, and how representations of context interact with other aspects of learning and memory. We now know from lesion studies that the perirhinal and postrhinal cortices are involved in processing information about context. Our current work addresses the particular role of these two regions using electrophysiological methods. We have two 32-channel Plexon MAP data acquisition systems interfaced with CinePlex tracking systems and MedAssociates behavioral control systems (Figure 2). Using stereotrode and tetrode recording methods in behaving rats (Figure 3), we are currently addressing questions about how individual stimuli and spatial context are encoded in the brain, and how representations of context interact with other items in memory. The goal of this work is to further characterize and dissociate the mnemonic functions of two specific regions in the MTL, the postrhinal and perirhinal cortices (perirhinal cortex).

Brown faculty collaborators:

None

Other project collaborators:

Sharon Furtak (postdoc), Kristin Kerr (graduate student), and Christine Cho (honors student) are all involved in this project.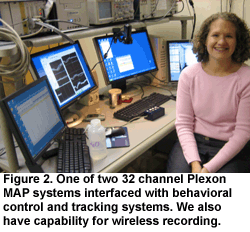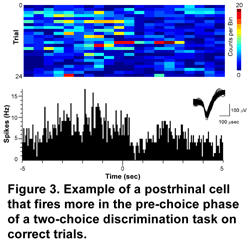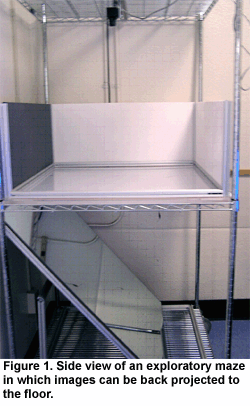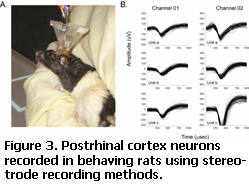 Back to Rebecca Burwell's Brown Research Profile