My program of research is heavily focused on understanding emotional development and how environmental or pharmacological stressors incurred early in life alter the developmental trajectory of brain centers involved in cognitive and emotional regulation.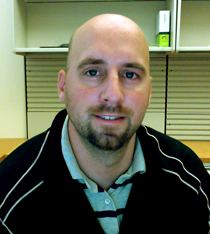 KEVIN BATH, Ph.D.
Assistant Professor of Neuroscience (Research)
Bio Med Neuroscience
Phone: +1 401 863 1000
E-mail: Kevin_Bath@brown.edu

Kevin Bath's Brown Research URL:
http://research.brown.edu/myresearch/Kevin_Bath

On The Web:
Director: RNDB

Brown collaborators:
Collaborators at other institutions:
Francis S. Lee (Weill Cornell Medical College)
Moses V. Chao (New York University School of Medicine)
Nathalie Mandairon (INSERM) France
Are you Kevin Bath? Click here to edit your research profile.