Chantelle Hart's work focuses on development of novel prevention and treatment approaches for pediatric obesity. Her current work focuses on how children's sleep duration is associated with eating and activity habits, and weight status.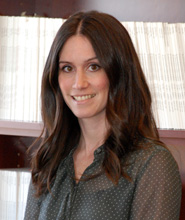 CHANTELLE HART, PhD
Adjunct Associate Professor of Psychiatry and Human Behavior
Bio Med Psychiatry & Human Behavior
Phone: +1 401 793 9727
E-mail: Chantelle_Hart@brown.edu

Chantelle Hart's Brown Research URL:
http://research.brown.edu/myresearch/Chantelle_Hart

On The Web:
Weight Control & Diabetes Research Center

Brown collaborators:
Are you Chantelle Hart? Click here to edit your research profile.