Carolyn Rabin, Ph.D., is an assistant professor of psychiatry and human behavior at Brown Medical School and The Miriam Hospital. She received her Ph.D. in clinical psychology from Rutgers University and completed her predoctoral internship and postdoctoral training at Brown University. She has conducted research on the factors that influence both emotional and physical well-being among cancer survivors. She is currently developing behavioral interventions for young adult cancer survivors.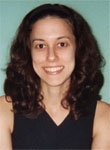 CAROLYN RABIN, PhD
Assistant Professor of Psychiatry & Human Behavior (Research)
Psychiatry & Human Behavior
Phone: +1 401 793 8234
E-mail: Carolyn_Rabin@Brown.EDU

Carolyn Rabin's Brown Research URL:
http://research.brown.edu/myresearch/Carolyn_Rabin

Are you Carolyn Rabin? Click here to edit your research profile.