Professor Powers' research interests include molecular and cellular biomechanics, the physics of soft matter, and nonlinear dynamics.

Overview | Research | Grants/Awards | Teaching | Publications

Professor Powers received an S.B. in Physics and an S.B. in mathematics from the Massachusetts Insitute of Technology in 1989. In 1995, he received his Ph.D. in Physics from the University of Pennsylvania, with Prof. Phil Nelson serving as his advisor. After Penn, he held postdoctoral positions in the physics departments of Princeton University and the University of Arizona with Prof. Ray Goldstein. Then he was a postdoctoral fellow at Harvard University with Howard Stone in the Division of Engineering and Applied Sciences. He joined the Division of Engineering of Brown University in 2000 as the first holder of the James R. Rice Term Chair in Solid Mechanics. He is currently an associate editor of Reviews of Modern Physics.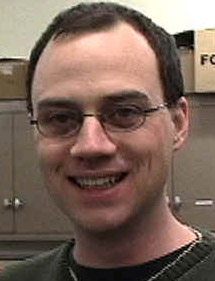 THOMAS POWERS
Professor of Engineering and Professor of Physics
Engineering
Phone: +1 401 863 2868
E-mail: Thomas_Powers@Brown.EDU

Thomas Powers's Brown Research URL:
http://research.brown.edu/myresearch/Thomas_Powers

On The Web:
http://www.engin.brown.edu/Faculty/Powers/index.htm

Brown collaborators:
Collaborators at other institutions:
Henry Fu, Mechanical Engineering, University of Nevada, Reno

Greg Huber, Department of Cell Biology, University of Connecticut Health Center

Eric Lauga, Department of Mechanical and Aerospace Engineering, University of California, San Diego

Arshad Kudrolli, Department of Physics, Clark University

Marcos, School of Mechanical and Aerospace Engineering, Nanyang Technological University

Max Nibert, Department of Microbiology and Molecular Genetics, Harvard Medical School

Roman Stocker, Department of Civil and Environmental Engineering, MIT

Jeff Urbach, Department of Physics, Georgetown University

Charles Wolgemuth, Department of Cell Biology, University of Connecticut Health Center
Are you Thomas Powers? Click here to edit your research profile.