Dr. Cu-Uvin's research focuses on Human Immunideficiency Virus (HIV) in women primarily in understanding the effect of antiretroviral therapy on HIV shedding in the female genital tract. She is also involved in research on Sexually Transmitted Diseases (STDs): human papilloma virus (HPV, genital warts) in the cervix and anal canal of HIV infected women, cervical/anal dysplasia or cancer, HPV vaccines, herpes and bacterial vaginosis. She collaborates on studies of microbicides to prevent HIV transmission.

Overview | Research | Grants/Awards | Teaching | Publications

Dr. Susan Cu-Uvin is an Professor of Obstetrics and Gynecology and Medicine at Brown University. She is the Director of the Immunology Center at the Miriam Hospital, Brown University, a clinic that serves almost 1,200 HIV infected patients. She is also the director of the Women and AIDS Core, for the Center for AIDS Research (CFAR) at Brown University. She is director of the Research program of the Brown/ Women and Infants Hospital Center of Excellence in Women's Health. She devotes 100% of her time to HIV related care and clinical research. She was the Chair of the Women's Health Committee of the Adult AIDS Clinical Trials Group (AACTG) from 2004-2006. She is the Principal Investigator of an RO1 to assess antiviral therapy and HIV in the female genital tract (AI40350), an co-PI of an RO3 to assess HIV-1 genital tract shedding among Cambodian women (TW6981), and a World AIDS Foundation grant to establish a HIV women's clinic in Cambodia and provide training to Cambodian health care professionals for research readiness for future projects related to HIV in women. She is a co-investigator of the CDC funded study to understand the natural history of HIV and AIDS in the era of highly active antiretroviral therapy (SUN).She served on the Institute of Medicine's Committee on Perinatal Transmission of HIV to investigate interventions to decrease vertical transmission of HIV within the United States. She chaired the NIH advisory committee on HIV related research in women and girls in 2008 and is a member of the NIH advisory committee on HIV related research in microbicides. She is also a member of the Global Microbicide Project scientific advisory group. She is a member of the Fogarty Executive Committee at Brown University and has been a very active mentor for international trainees in HIV/AIDS care and research.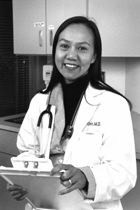 SUSAN CU-UVIN, MD
Professor of Obstetrics & Gynecology and Professor of Medicine and Professor of Health Services, Policy & Practice
Obstetrics & Gynecology
Phone: +1 401 793 4775
Phone 2: +1 401 793 4775
E-mail: Susan_Uvin@Brown.EDU

Susan Cu-Uvin's Brown Research URL:
http://research.brown.edu/myresearch/Susan_Cu-Uvin
Brown collaborators:
Collaborators at other institutions:
Dr. Angela Caliendo, Emory University
Dr. Richard D'Aquila, Vanderbilt University
Dr. Angela Kashuba, Univ. of North Carolina
Dr.Barbara Shacklett, Univ. of California, Davis
Dr. Jane Hitti, Univ. of Washington, Seattle
Dr. Robert Coombs, Univ. of Washington, Seattle
Dr. Monica Carten, Univ. of Colorado
Dr. Judy Aberg,New York University
Are you Susan Cu-Uvin? Click here to edit your research profile.