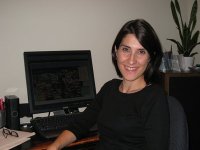 SILVIA SOBRAL, MA in Teaching English as a Second Language; PhD candidate in Hispanic Linguistics
Senior Lecturer in Hispanic Studies
Hispanic Studies
Phone: +1 401 863 2569
E-mail: Silvia_Sobral@brown.edu

Silvia Sobral's Brown Research URL:
http://research.brown.edu/myresearch/Silvia_Sobral

On The Web:
Dicho y Hecho. Beginning Spanish.


Are you Silvia Sobral? Click here to edit your research profile.