Overview | Research | Grants/Awards | Teaching | Publications

I graduated magna cum laude in 1998 with a B.Sc. in marine science and chemistry from the University of Miami in Coral Gables, FL. After a one-year stint working at the National Oceanic and Atmospheric Administration's Geophysical Fluid Dynamics Laboratory, I began graduate school in the Department of Geosciences at Princeton University. Graduating with a Ph.D. in 2004, I subsequently became a postdoctoral researcher at the University of Washington with a fellowship from the Joint Institute for Study of the Atmosphere and Ocean (JISAO). I joined the faculty at Brown in 2008, and continue to pursue my varied research interests in the global N cycle, the biogeochemical record in ice cores and global connections between atmospheric chemistry and climate.

Download Meredith Hastings's Curriculum Vitae in PDF Format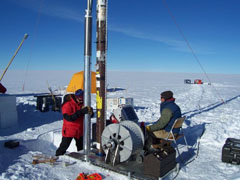 Meredith and ICDS driller, Bella, drilling an ice core near Summit, Greenland.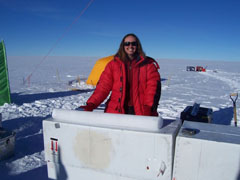 Meredith and 1-meter piece of "fresh" ice core.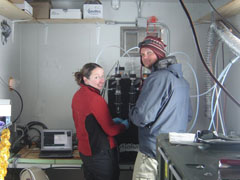 Meredith and graduate student, Justin Wettstein collecting gas phase and aerosol samples in Summit, Greenland.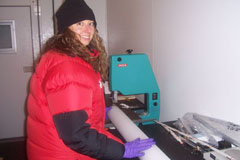 Meredith processing ice core in the freezer at University of Washington.