Overview | Research | Grants/Awards | Teaching | Publications

Before coming to Brown in 2008, Professor Suchman taught at the University of Wisconsin-Madison (1993-2006) and at Cornell Law School (2006-2007). From 1999 to 2001, he was a Robert Wood Johnson Scholar in Health Policy Research at Yale, and in 2002-2003 he was a fellow at the Center for Advanced Study in the Behavioral Sciences. He has also served as a Program Officer for Virtual Organizations and Learning and Workforce Development in the National Science Foundation's Division of Advanced Cyberinfrastructure (2012-2013).

Professor Suchman's research interests center on the relationship between law, innovation and entrepreneurship, particularly in the information technology, nanotechnology, and healthcare sectors. He is currently writing a book on the role of law firms in Silicon Valley, and he is midway through a multi-year project on the organizational, professional and legal challenges surrounding new information technologies in health care. In addition, he has written on organizational legitimacy, on inter-organizational disputing practices, on the "internalization" of law within corporate bureaucracies, and on social science approaches to the study of contracts.

Download Mark Suchman's Curriculum Vitae in PDF Format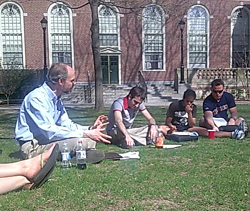 A seminar on Pembroke Quad