Mark Lurie, PhD, is an infectious disease epidemiologist working on HIV/AIDS, sexually transmitted infections and tuberculosis in sub-Saharan Africa. He has studied the role of migration in the spread of HIV in South Africa, examined the evidence for concurrency as a major driver of the HIV epidemic, and his current research, through an NIH R-01 examines the impact of antiretroviral therapy on HIV epidemic dynamics in Sub-Saharan Africa.

Overview | Research | Grants/Awards | Teaching | Publications

Dr. Lurie, a native South African, earned his BA in Political Science and Film Studies from Boston University in 1986, his Masters Degree in African History from the University of Florida in 1991 and his PhD in Public Health from Johns Hopkins University School of Hygiene and Public Health in 2001.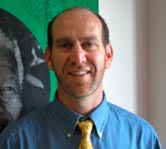 MARK LURIE, PhD
Assistant Professor of Epidemiology
Department of Epidemiology
Phone: +1 401 863 7593
Phone 2: +1 401 863 3713
E-mail: Mark_Lurie@Brown.EDU

Mark Lurie's Brown Research URL:
http://research.brown.edu/myresearch/Mark_Lurie

On The Web:
International Health Institute


Collaborators at other institutions:
University of Cape Town, School of Public Health and Family Medicine, Cape Town, South Africa;
Africa Centre for Health and Population Studies, KwaZulu/Natal, South Africa;
Erasmus Medical College, Rotterdam, the Netherlands;
Agincourt Demographic Surveillance System, South Africa;
Medical Research Council, Health Systems Research Unit, Cape Town, South Africa;
Perinatal HIV Research Unit, Baragwanath Hospital, Soweto, South Africa
Centre for Social Development in Africa, University of Johannesburg.

Are you Mark Lurie? Click here to edit your research profile.