Social anthropology, kinship, politics, study of ritual and the construction of gender, development and political studies, race and ethnic relations, Islamic societies and notions of identity, ethnographic film; feminist movement in Africa and Asia, study of ritual and kinship, construction of gender and identity, nationalism and post-colonial identity (India and Africa).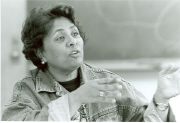 LINA FRUZZETTI, Ph.D. U Minnesota 1975
Royce Family Professor in Teaching Excellence and Professor of Anthropology
Anthropology
Phone: +1 401 863 3251
E-mail: Lina_Fruzzetti@brown.edu

Lina Fruzzetti's Brown Research URL:
http://research.brown.edu/myresearch/Lina_Fruzzetti

On The Web:
http://learningobjects.wesleyan.edu/naya/


Collaborators at other institutions:
Sirpa Tenhunen, University of Helsinki
Akos Ostor, Wesleyan University
Rosa Maria Perez, University of Lisbon
Aditi Nath Sarkar, The Ray Society

Are you Lina Fruzzetti? Click here to edit your research profile.