Professor Cooper's current research focuses on the development and application of new geometric, algebraic, and probabilistic approaches, models, and algorithms for recognizing and estimating 2D and 3D geometric information from images, video, and range data. Present specific research projects include: Geometry-based searching of very large image databases (100,000 or more images) using new geometric invariants for open or closed curves as search features.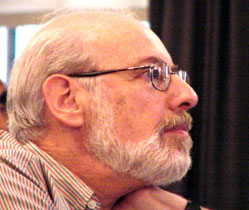 DAVID COOPER
Professor
Engineering
Phone: +1 401 863 2601
Phone 2: +1 401 863 2177
E-mail: David_Cooper@Brown.EDU

David Cooper's Brown Research URL:
http://research.brown.edu/myresearch/David_Cooper

On The Web:
http://www.engin.brown.edu/Faculty/Cooper/index.htm


Are you David Cooper? Click here to edit your research profile.