My focus is the pathophysiology and treatment of obsessive-compulsive disorder (OCD). I use brain stimulation, cognitive probes, and a variety of neuroimaging techniques to probe brain circuits implicated in symptom expression and in the response to treatment, and to reveal more about the neuroanatomical underpinnings of OCD symptoms.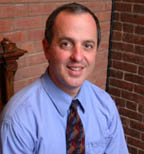 BENJAMIN GREENBERG, MD, PHD
Associate Professor of Psychiatry & Human Behavior
Psychiatry & Human Behavior
Phone: +1 401 455 6602
E-mail: Benjamin_Greenberg@Brown.EDU

Benjamin Greenberg's Brown Research URL:
http://research.brown.edu/myresearch/Benjamin_Greenberg

On The Web:
Benjamin Greenberg
Pilot Research Grants 2003-2004


Are you Benjamin Greenberg? Click here to edit your research profile.