My research focuses on understanding biochemical and biomolecular processes in microchip environments. Projects include: developing continuous flow DNA and RNA amplification processes, rapid identification of Influenza subtypes, fast screens for protein folding and unfolding buffers, separation of protein isoforms, developing micro-bubble shells for detecting pathological conditions, and developing nanoparticle induced pathogen lysis.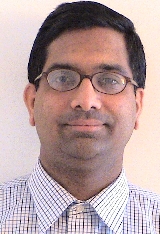 ANUBHAV TRIPATHI
Associate Professor of Engineering
School of Engineering
Phone: +1 401 863 3063
Phone 2: +1 401 863 3063
E-mail: Anubhav_Tripathi@brown.edu

Anubhav Tripathi's Brown Research URL:
http://research.brown.edu/myresearch/Anubhav_Tripathi

On The Web:
Biochemical Engineering Laboratory


Are you Anubhav Tripathi? Click here to edit your research profile.