Alkenone Paleotemperature Measurements
Organic geochemistry provides a promising proxy to reconstruct ocean surface temperatures.
Alkenones are long-chained ketones synthesized by a limited number of haptophyte algal species; their unsaturation ratio (determined by gas chromatography) has been show both mechanistically and statistically to yield very good estimates of the growth temperature. Because these organisms must live in the photic zone, their growth temperature is closely tied to SST. The alkenone method sidesteps ambiguities inherent in using planktonic d18O and/or faunal assemblages as a paleotemperature proxies, as both can be influenced by variables other than near surface temperature. The most widely used calibration of unsaturation index to temperature is the linear model of Prahl et al. (1988):

T = ( Uk' 37 - 0.039)/0.034

Our laboratory is highly automated, and can extract and analyze 100- 120 samples per week. Expertise from Professors Prell (planktonic foraminifera, stable isotopes) and Huang (organic geochemistry) complement our alkenone paleotemperature efforts.
Current projects include:



re-evaluating the stability of the tropical sea surface temperatures during the past ice ages


studying regional variations in temperatures during glacial terminations


using the alkenone index to resolve past decadal to century-scale changes in the Peru and California margin upwelling zones


documenting SST variability over the past 5 Ma


Brown faculty collaborators:

None

Other project collaborators:

See publications list.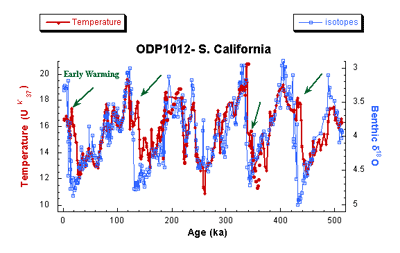 Example of comparison of alkenone paleotemperatures (RED) to benthic oxygen isotopes (BLUE). Note that temperatures along the California margin rise well before deglaciation in most cases, but stay locked to ice volume during interglacial periods. See Herbert et al. (2001, Science) for more details.
Back to Timothy Herbert's Brown Research Profile