Crystallographic Orientations
Another research theme has involved studies of lattice preferred orientations (LPOs). Together with students and collaborators, especially Renee Heilbronner, I have determined the LPOs produced by slip within deformed original grains of quartzites under various conditions and have contrasted these with LPOs produced by dynamic and annealing recrystallization. I have also investigated how the LPOs differ between the deformation geometries of axial compression, plane strain and simple shear.

Related Publications:
Tullis, J., 1970, Quartz: preferred orientation in rocks produced by Dauphine twinning: Science, 168, 1342-1344.

Tullis, J. and Tullis, T.E., 1972, Preferred orientation of quartz produced by mechanical Dauphine twinning: thermodynamics and axial experiments: AGU Geophysical Monograph, 16, 62-82.

Tullis, J., 1977, Preferred orientation of quartz produced by slip during plane strain: Tectonophysics, 39, 87-102.

Dell'Angelo, L.N. and Tullis, J., 1986, A comparison of quartz c-axis preferred orientations in experimentally deformed aplites and quartzites: Jour. Struc. Geol., 8, 683-692.

Dell'Angelo, L.N. and Tullis, J., 1989, Fabric development in experimentally sheared quartzites: Tectonophysics, 169, 1–22.

Gleason, G., Tullis, J. and Heidelbach, F., 1993, The role of dynamic recrystallization on the preferred orientations of experimentally deformed quartz aggregates. J. Struc. Geol., 15, 1145-1168.

Heidelbach, F., Post, A. and Tullis, J., 2000, Lattice preferred orientation in experimentally deformed albite aggregates. J. Struc. Geol., 22, 1649-1662.

Wenk, H.-R., Lonardelli, I., Vogel, S. and Tullis, J., 2005. Dauphine twinning as evidence for an impact origin of preferred orientation in quartz: An example from Vredefort, South Africa. Geology, 33, 273-276.

Heilbronner, R. and Tullis, J., 2002. The effect of static annealing on microstructures and CPOs of quartzites experimentally deformed in axial compression and shear. Geol. Soc. Lond. Spec. Pub. 200, 191-218.

Heilbronner, R. and Tullis,, 2006, J. Evolution of c-axis pole figures and grain size during progressive grain boundary migration recrystallization: Results from experimentally sheared quartzite. In Press. J. Geophys. Res. v.111, B10202, doi:10.1029/2005JB004194.

Brown faculty collaborators:

Terry Tullis


Other project collaborators:

See publications list.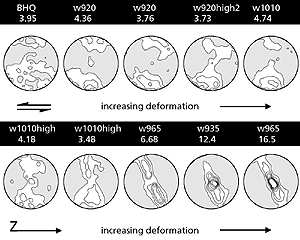 C-axis preferred arrentations of experimentally sheared quartzite samples, as a function of increasing shear strain and percent recrystallization; the LPO maximum is listed under each sample number. Shear plane is horizontal. From Heilbronner and Tullis (2006).
Back to Jan Tullis's Brown Research Profile