Peru Margin Paleoceanography: Does the El Nino Model Apply?
We are reconstructing variations in past sea surface temperature and biological activity along the Peru coast in great detail over the past 20,000 years, using marine sediments.

Despite the importance of the Peru margin to the modern El Nino climate oscillation, little is known about how this region behaved before the advent of instrumental records (the last 150 years or so). My colleagues and I are using innovative techniques to measure critical aspects of Peru margin oceanography since the last Ice Age as recorded in marine sediments. We find very large variations in past sea surface temperature and biological activity, but the patterns do not resemble the well-known El Nino/La Nina configuration. We believe that climate change on decadal to centennial time scales involve processes different from the El Nino cycle, most likely triggered by changes in the high latitude southern ocean.

Second figure on the right: Comparison of timing of onset of denitrification ( d 15 N curve: blue), warming (alkenone SST: red) and late Holocene increase in productivity (alkenone abundance) on the Peru margin (Herbert, Altabet, unpublished data). Note that denitrification began well before deglaciation and sea level rise. The early warming of SST also follows a "Southern Hemisphere" pattern. Intense denitrification and anoxia preceded the modern rise of the high productivity ecosystem in the region; the d 15 N signal must therefore be imported from sub-thermocline waters elsewhere.

Brown faculty collaborators:

None

Other project collaborators:

Dr. Mark Altabet (UMass Dartmouth)
Dr. Sean Higgins (Woods Hole/M.I.T.)
Dr. Tom Koutavas (City University of New York)
Dr. Delia Oppo (Woods Hole Oceanographic Institution)
Dr. Yair Rosenthal (Rutgers University)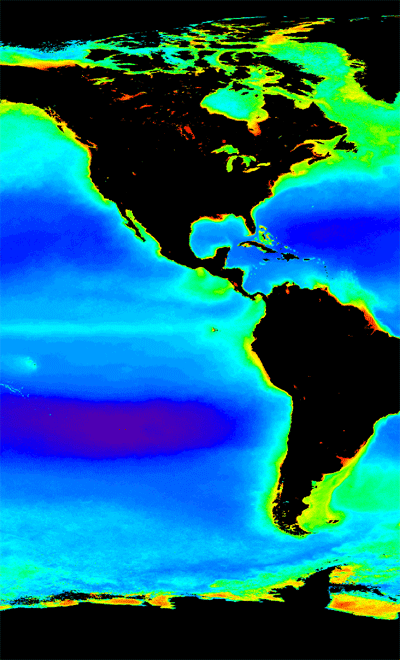 Detail of chlorophyll abundance estimated from space, showing spatial patterns around North and South America (source: SeaWiFS web site).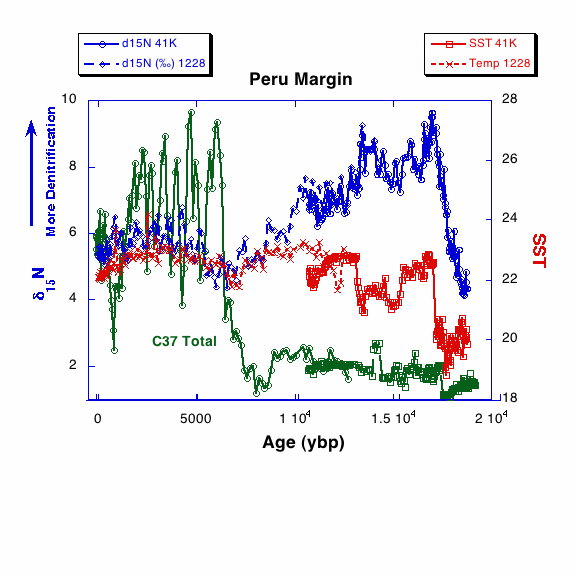 Back to Timothy Herbert's Brown Research Profile