Partial differential equations, Fluid dynamics (Incompressible Navier-Stokes), Systems of conservation laws (Compressible Navier-Stokes and MHD; Radiative hyperbolic--elliptic systems), Kinetic theory (Vlasov - Maxwell; Boltzmann), Stability theory and Dynamical system, Traveling wave solutions, Viscous shock waves and Boundary layers.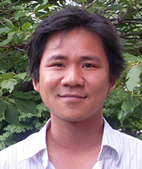 TOAN NGUYEN
Assistant Professor of Applied Mathematics
Applied Mathematics
Phone: +1 401 863 2114
E-mail: Toan_Nguyen@brown.edu

Toan Nguyen's Brown Research URL:
http://research.brown.edu/myresearch/Toan_Nguyen

On The Web:
Homepage of Toan Nguyen


Are you Toan Nguyen? Click here to edit your research profile.