Our laboratory studies how the mammalian brain processes olfactory information and translates it into behavioral outputs. We are developing a new method for transsynaptic labeling of neural circuits combining molecular biology and mouse genetics. This method will enable us to map and characterize the neural circuits that the brain uses to process olfactory information. We also study the role of odorant receptors in the wiring of olfactory circuits. Finally, we are developing a molecular method to selectively record the activation of particular dopamine receptor subtypes in mice.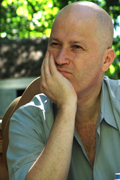 GILAD BARNEA, Ph.D.
Robert and Nancy Carney
Assistant Professor of Neuroscience
Phone: (401) 863-3126
Phone 2: (401) 863-1634 (Lab)
E-mail: Gilad_Barnea@brown.edu

Gilad Barnea's Brown Research URL:
http://research.brown.edu/myresearch/Gilad_Barnea
Brown collaborators:
Collaborators at other institutions:
Richard Axel (Columbia University)
Stavros Lomvardas (UCSF)
Filippo Mancia (Columbia University)
Mark W. Albers (Harvard-MGH)
Stephen D. Liberles (Harvard)
Are you Gilad Barnea? Click here to edit your research profile.