Research: Elementary Particle Physics (experimental studies at high energy accelerators; development of new techniques including computer-related systems for particle physics) A member of the Brown faculty since 1973, Professor Cutts is a graduate of Harvard College and received his Ph.D. from the University of California, Berkeley. A Fellow of the American Physical Society, he has been on the staffs of S.U.N.Y, Stony Brook, the Rutherford Laboratory, England and the Fermi National Accelerator Laboratory, where he also served as Chair of the Users Committee. Profesor Cutts was the Department's Executive Officer from 1985-1988 and 1989-92, and Chair from 1998-2004.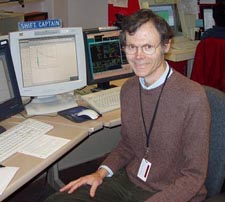 DAVID CUTTS
Professor
Physics
Phone: +1 401 863 2422
Phone 2: +1 401 863 2140
E-mail: David_Cutts@Brown.EDU

David Cutts's Brown Research URL:
http://research.brown.edu/myresearch/David_Cutts

Are you David Cutts? Click here to edit your research profile.