Our studies are directed toward investigating the properties and the reactivity of new peroxide species which allow selective oxidations. In recent times, our efforts have focused on a new class of reactive organic peroxides that are powerful oxidants and have great potential for synthetic purposes.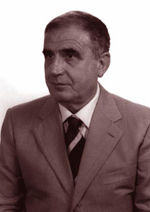 RUGGERO CURCI
Professor
Chemistry

Phone 2: 401 863 2256
E-mail: ruggero_curci@brown.edu

Ruggero Curci's Brown Research URL:
http://research.brown.edu/myresearch/Ruggero_Curci

On The Web:
Ruggero Curci


Are you Ruggero Curci? Click here to edit your research profile.