A recent effort in our lab is a collaboration with colleagues in the Chemistry Department (Kathlyn Parker and William J. Suggs) and in the Computer Science Department (Eli Upfal and Franco Preparata). We are investigating the behavior of synthetic and natural nucleosides in DNA hybridization experiments. Our goal is to find a ""universal"" base with particular characteristics that will allow us to use gapped or patterned probes for Sequencing By Hybridization (SBH). When used for SBH, gapped probes will increase the information content of oligonucleotide based microarrays by at least 100-fold and will lower the cost of DNA sequencing.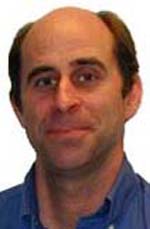 JOHN OLIVER
Assistant Professor (Research)
Chemistry
Phone: 401 863 2844
E-mail: john_oliver@brown.edu

John Oliver's Brown Research URL:
http://research.brown.edu/myresearch/John_Oliver

Are you John Oliver? Click here to edit your research profile.