Our group conducts research in the following areas: Aerogel Chemistry, Inorganic Glasses, Bioinorganic Polymers, Chemical and Physical Properties of Ionomers, Polyurethane Ionomer Chemistry, and Ionomers in Fuel Cells.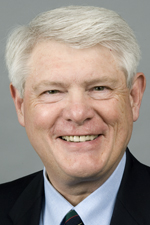 WILLIAM RISEN
Professor Emeritus of Chemistry
Chemistry
Phone: +1 401 863 2611
E-mail: William_Risen_Jr@Brown.EDU

William Risen's Brown Research URL:
http://research.brown.edu/myresearch/William_Risen

Are you William Risen? Click here to edit your research profile.