My research interest lies in the theory and applications of probabilistic methods. Recently, I have been working on game-theoretic importance sampling (IS). Importance sampling is a variance reduction technique in Monte Carlo simulation, and can be especially effective when the quantities of interest are largely determined by rare events.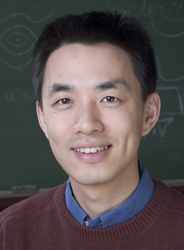 HUI WANG
Assistant Professor
Applied Mathematics
Phone: +1 401 863 2360
E-mail: Hui_Wang@brown.edu

Hui Wang's Brown Research URL:
http://research.brown.edu/myresearch/Hui_Wang

On The Web:
http://www.dam.brown.edu/people/huiwang/


Are you Hui Wang? Click here to edit your research profile.