Professor Clifton's primary research is on the mechanical response of materials at very high loading rates. Applications include: high speed machining, armor penetration, shear band formation, martensitic phase transformations, elastohydrodynamic lubrication, and dynamic fracture. Principal experimental approach is pressure-shear plate impact. A second research focus involves the measurement of the high frequency, viscoelastic response of soft, biological tissues, especially vocal folds.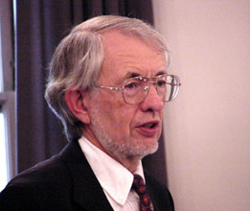 RODNEY CLIFTON
Professor
Engineering
Phone: +1 401 863 2855
Phone 2: +1 401 863 3034
E-mail: clifton@engin.brown.edu

Rodney Clifton's Brown Research URL:
http://research.brown.edu/myresearch/Rodney_Clifton

On The Web:
Rodney J. Clifton
Clifton wins top applied mechanics award (GSJ of Nov. 3, 2000)


Are you Rodney Clifton? Click here to edit your research profile.