My research centers on observational cosmology, the experimental measurement of the fundamental properties of the Universe. I am a member of the LSST collaboration's weak lensing working group and head the galaxy clusters working group of the LSST Dark Energy Science Collaboration. I am a member of the WIYN ODI Science Commissioning team. I have been member of the Brown faculty since 1999, and worked at Bell Laboratories and the National Optical Astronomy Observatories before coming to Brown.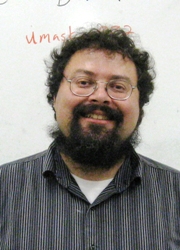 IAN DELL'ANTONIO
Associate Professor
Physics
Phone: +1 401 863 1154
Phone 2: +1 401 863 2247
E-mail: Ian_Dell'antonio@Brown.EDU

Ian Dell'Antonio's Brown Research URL:
http://research.brown.edu/myresearch/Ian_Dell'Antonio

On The Web:
Gravitational Lensing and Astrophysics Group
Ian Dell'Antonio


Collaborators at other institutions:
Tony Tyson, David Wittman (UC Davis)
Margaret Geller, Michael Kurtz, Daniel Fabricant (Smithsonian Astrophysical Observatory)
Yun Wang (University of Oklahoma)
Stefano Casertano (Space Telescope Science Institute)
Gordon Squires, Gillian Wilson (Caltech/Spitzer Science Center)
Dinesh Loomba (University of New Mexico)
Massimo Ramella (Osservatorio Astronomico di Trieste)
Luigi Guzzo (Osservatorio Astronomico di Brera)

Are you Ian Dell'Antonio? Click here to edit your research profile.