Research: Quantum Field Theory (String Theory, Quantum Gravity, Black Holes, Non-perturbative and Collective Phenomena) Professor Jevicki joined the faculty of Brown University in 1979. He received his B.S. from Belgrade University in 1972 and Ph.D. from the City College of New York in 1976. He was a member of the Institute for Advanced Study (Princeton) from 1976 to 1979 and an Alfred P. Sloan Foundation Research Fellow. More recently he has carried out research at CERN (Geneva), ITP (Santa Barbara), Ecole Normale Superieure (Paris), The Yukawa Institute (Kyoto), and the University of Tokyo.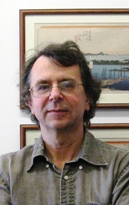 ANTAL JEVICKI
Professor
Physics
Phone: +1 401 863 2624
Phone 2: +1 401 863 1473
E-mail: Antal_Jevicki@Brown.EDU

Antal Jevicki's Brown Research URL:
http://research.brown.edu/myresearch/Antal_Jevicki

On The Web:
http://www.het.brown.edu/people/antal/index.html


Are you Antal Jevicki? Click here to edit your research profile.