The Sharma laboratory has a multifaceted research program focused on answering the question of why some women are predisposed to pregnancy complications. We believe that these problems may originate from abnormal immune and hormonal responses during pregnancy. The hypothesis is that anti-inflammatory intrauterine milieu controlled by cytokines and pregnancy hormones is crucial to fetal development and pregnancy success.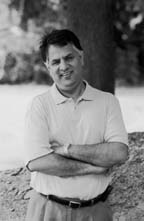 SURENDRA SHARMA, PHD
Professor of Pediatrics (Research)
Pediatrics
Phone: +1 401 277 3618
E-mail: Surendra_Sharma@brown.edu

Surendra Sharma's Brown Research URL:
http://research.brown.edu/myresearch/Surendra_Sharma

Are you Surendra Sharma? Click here to edit your research profile.