Professor Landy studies mechanisms in site-specific recombination, global regulation of cell physiology, and protein-DNA interactions.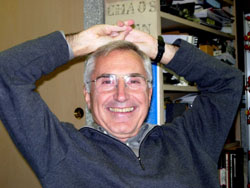 ARTHUR LANDY, PHD
Professor of Medical Science
Molecular Biology, Cell Biology, & Biochemistry
Phone: +1 401 863 2571
Phone 2: +1 401 863 1658
E-mail: Arthur_Landy@Brown.EDU

Arthur Landy's Brown Research URL:
http://research.brown.edu/myresearch/Arthur_Landy

On The Web:
Arthur Landy


Are you Arthur Landy? Click here to edit your research profile.