The goal of the Hoffman-Kim laboratory is to understand axon guidance in complex environments and inform biomaterial and tissue engineering strategies for promoting nerve regeneration. We apply engineering techniques to biological systems in vitro to challenge growing neurons with multiple guidance cues, including diffusible factors, substrate-bound molecules, electrical cues, and topographical surface features.

Overview | Research | Grants/Awards | Teaching | Publications

Diane Hoffman-Kim, Ph.D., is Associate Professor of Medical Science and Engineering in the Department of Molecular Pharmacology, Physiology, and Biotechnology and the Center for Biomedical Engineering. She received her B.S. in Optics Engineering from the University of Rochester, her Ph.D. in Medical Science from Brown University, and her postdoctoral training from M.I.T., Harvard, and the Bunting Institute. Professor Hoffman-Kim teaches courses in tissue engineering and biomedical engineering. The goal of Professor Hoffman-Kim's research is to elucidate the cellular and molecular mechanisms that underlie axon guidance, both during the formation of the precise connections of the nervous system and during the regrowth of axons after injury. Her long-term objective is to apply this knowledge to the development of biomaterials and tissue engineered nerve substitutes for nerve regeneration.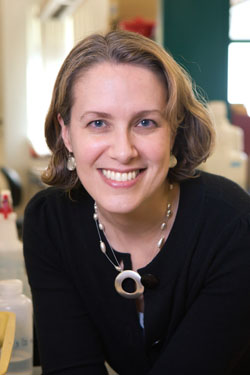 DIANE HOFFMAN-KIM, Ph.D., Brown University, 1993
Associate Professor
Molecular Pharmacology, Physiology & Biotechnology
Phone: +1 401 863 9395
Phone 2: +1 401 863 3262
E-mail: Diane_Hoffman-Kim@Brown.EDU

Diane Hoffman-Kim's Brown Research URL:
http://research.brown.edu/myresearch/Diane_Hoffman-Kim

On The Web:
GRP explores ways to jump-start nerve growth (GSJ of March 26, 2004)
Brown Team Creates Uncanny Cell Replicas for Treatment, Research (Sept. 8, 2006)

Brown collaborators:
Collaborators at other institutions:
Arnold Gillner, PhD, Fraunhofer Institute for Laser Technology
Ulrike Mende, MD, Cardiovascular Research Center, RI Hospital
Bum-Rak Choi, PhD, Cardiovascular Research Center, RI Hospital
Gideon Koren, MD, Cardiovascular Research Center, RI Hospital
Are you Diane Hoffman-Kim? Click here to edit your research profile.