Director, Division of Gastroenterology ( Miriam Hosp. ); Co-director, Community Health clerkship (Brown Medical School). Clinical interests include inflammatory pancreatic disease and viral hepatitis in underserved populations. Research focuses on medical student teaching ; fostering student involvement in scientific writing for publication and presentation at scientific meetings, including 64 student presentations at regional or national meetings from 2002-2009.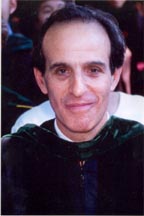 EDWARD FELLER, MD
Clinical Professor of Community Health
Community Health
Phone: +1 401 863 3699
Phone 2: +1 401 272 7607
E-mail: Edward_Feller@Brown.EDU

Edward Feller's Brown Research URL:
http://research.brown.edu/myresearch/Edward_Feller

Are you Edward Feller? Click here to edit your research profile.