We study sigma receptors, proteins found throughout the body. They bind several classes of psychoactive drugs. Activation of sigma-2 receptors causes programmed cell death (apoptosis). We are trying to understand the underlying mechanisms for this. Because they are highly expressed in cancer cells, we are targeting sigma-2 receptors for development of new antineoplastic agents. Also, antipsychotic drugs such as haloperidol damage neurons via sigma-2 receptors. Blocking sigma-2 receptors might prevent the irreversible motor side effects caused by typical neuroleptic agents.

Overview | Research | Grants/Awards | Teaching | Publications

Dr. Wayne Bowen earned his B.S. in chemistry from Morgan State College in 1974, and completed his Ph.D. in biochemistry and neurobiology at Cornell University in 1981. After postdoctoral studies at the National Institute of Mental Health (NIMH), he initially came to Brown University in 1983, as Assistant Professor of Biology in the Section of Biochemistry where he taught endocrinology, introductory biology, and biochemistry and did research on opioid and sigma receptors in the brain. Shortly after promotion to Associate Professor, he moved back to the NIH in 1991 to establish the Unit on Receptor Biochemistry and Pharmacology within the Laboratory of Medicinal Chemistry of the National Institute of Diabetes and Digestive and Kidney Diseases (NIDDK). He returned to Brown University in 2004 to take his current position as Professor of Biology in the Department of Molecular Pharmacology, Physiology & Biotechnology in the Division of Biology and Medicine. In 2007, he assumed the position as department chair and was named Upjohn Professor of Pharmacology in 2008.

Dr. Bowen is a nationally recognized leader in research on sigma receptors—membrane proteins found in tissues throughout the body and that are highly upregulated in cancer cells. He has shown that activation of sigma-2 receptors induces apoptotic cell death, and therefore they may serve as regulators of cell proliferation and survival. He is interested in signal transduction, particularly those pathways that lead to receptor-mediated cell death. Trained initially as a chemist, he maintains a strong interest and involvement in medicinal chemistry and drug design, particularly in relation to development of selective sigma receptor agonists and antagonists. He is exploring these compounds as potential anti-neoplastic, tumor diagnostic, and neuroprotective agents.

Dr. Bowen currently co-directs the medical school's pharmacology course, teaches in endocrinology and neuroscience courses for undergraduates, and co-directs the core pharmacology course for the Molecular Pharmacology and Physiology Graduate Program. Dr. Bowen is a member of the Society for Neuroscience, the International Brain Research Organization/World Federation of Neuroscientists, and the American Association for Cancer Research. He is the recipient of numerous awards and honors, and has performed service on NIMH and NIDA Study Sections. He served as president of the NIH Black Scientists Association in 2001. Dr. Bowen's research has been funded by NIDA, NINDS, NIDDK, the Rhode Island Science and Technology Advisory Council, and a Salomon Award from Brown University.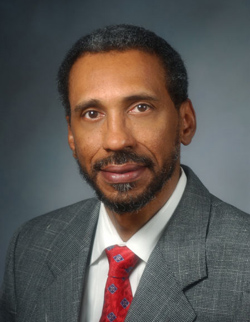 WAYNE BOWEN, Ph.D., Cornell University, 1981
Dept. Chair, Professor of Biology, Upjohn Professor of Pharmacology
Molecular Pharmacology, Physiology & Biotechnology
Phone: +1 401 863 3253
E-mail: Wayne_Bowen@brown.edu

Wayne Bowen's Brown Research URL:
http://research.brown.edu/myresearch/Wayne_Bowen

On The Web:
Wideman, Houston, Bowen among new faculty appointments at Brown
New Faculty Profiles

Brown collaborators:
Collaborators at other institutions:
Rae Matsumoto, West Virginia University
Andrew Coop, University of Maryland
Amy Newman, National Institute on Drug Abuse
Igor Espinoza-Delgado, National Institute on Aging
Tangui Maurice, University of Montpellier
Remi Martin-Fardon, Scripps Research Institute
Christopher McCurdy, University of Mississippi
Harold Wanebo, Landmark Cancer Center
Are you Wayne Bowen? Click here to edit your research profile.