My lab studies what the eye tells the brain. We explore the structure and function of ganglion cells, the retinal neurons that communicate directly with the brain. There are more than a dozen types of ganglion cells. Each has anatomical and physiological features matched to the requirements of specific visual behaviors. We recently discovered a bizarre new type that is a true photoreceptor, responding directly to light like a rod or cone. These cells synchronize the biological clock and constrict the pupil. We seek to understand how these cells work and how their signals are used by the brain.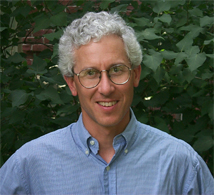 DAVID BERSON, Ph.D., Massachusetts Institute of Technology, 1980
Professor of Medical Science
Neuroscience
Phone: 401-863-2555
Phone 2: 401-863-7751
E-mail: David_Berson@brown.edu

David Berson's Brown Research URL:
http://research.brown.edu/myresearch/David_Berson

On The Web:
Brown Scientists Uncover Inner Workings of Rare Eye Cells
Discovery of new retinal photoreceptors
Ganglion cell photoreceptors adapt to lighting conditions
** Lab web page **
Early light refines brain's circuitry for vision

Brown collaborators:
Collaborators at other institutions:
Andy Huberman, UCSD
Samer Hattar, Johns Hopkins
Craig Montell, Johns Hopkins
Ignacio Provencio, Univ. Virginia
Satchin Panda, Salk Institute
King-Wai Yau, Johns Hopkins
Doug McMahon, Vanderbilt Univ.
Gary Pickard, Univ. Nebraska
Are you David Berson? Click here to edit your research profile.