Jeffrey Muller's research centers on Flemish art between 1500 and 1800. Currently he is studying how visual communication was integral to implementation of the Counter Reformation in the Spanish Netherlands. He seeks answers in two directions. First, he is completing the case study of St. Jacob's, Antwerp, the only church to survive intact from the period. Second, he is writing articles on broader topics to challenge methodological flaws that separate the practice of history and art history.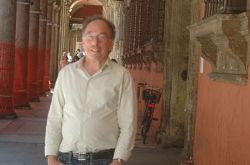 JEFFREY MULLER
Professor of History of Art and Architecture
History of Art & Architecture
Phone: +1 401 863 3834
Phone 2: +1 401 863 1174
E-mail: Jeffrey_Muller@Brown.EDU

Jeffrey Muller's Brown Research URL:
http://research.brown.edu/myresearch/Jeffrey_Muller

Are you Jeffrey Muller? Click here to edit your research profile.