Overview | Research | Grants/Awards | Teaching | Publications

Dr. Eduardo A. Nillni joined the Division of Endocrinology in the Department of Medicine as a member of the research faculty in 1989. His education included a master's degree in Biological Sciences from the University of Buenos Aires, Argentina, and a PhD from the Hadassah Medical School, Hebrew University of Jerusalem, Israel, where he studied the Biochemistry of Parasitic Protozoa. Dr. Nillni did his post-doctoral fellowship in membrane biology of parasitic protozoa at Tufts-New England Medical Center in Boston, and he then became a member of the faculty in 1984. He subsequently shifted his research to the field of Endocrinology and has established a highly productive program studying the role of neuropeptide hormones, nutrient sensors in the hypothalamus and the adiposite hormone leptin involved in the regulation of food intake energy homeostasis.

Dr. Nillni currently is an appointed member of the Integrative Physiology of Obesity and Diabetes National Institutes of Health Study Section (IPOD), a member of the Editorial Board of Endocrinology, and in 2010 he will be the Chairman of the Lifespan affiliated Hospitals Institutional Animal Care and Use Committee. Dr. Nillni is also a NIH Trainer in the Molecular Biology, Cell Biology & Biochemistry, and Pathobiology graduate programs. He is also an ad hoc reviewer for several journals, including the Journal of Biological Chemistry and the Journal of Neurochemistry, American Journal of Physiology among many. Among his honors, he was the recipient of the 2001 Bruce Selya Award for Research Excellence at Lifespan, and his work was featured in a National Science Foundation progress report to the U.S. Congress.

Download Eduardo A. Nillni's Curriculum Vitae in PDF Format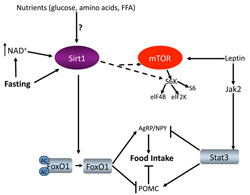 Model depicting Sirt1 action in the hypothalamus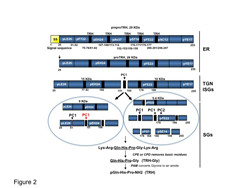 Illustration of proTRH post-translational processing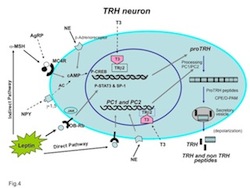 Schematic representation of the TRH neuron with the most relevant inputs controlling its gene expression